Make the most of your conference content
Transcribe, translate, repurpose and share — meet your audience wherever they are.
Make audio and video more accessible by using the interactive transcripts and captions we produce from transcribing your media. You can edit transcripts and specify speakers using our intuitive Transcript Editor.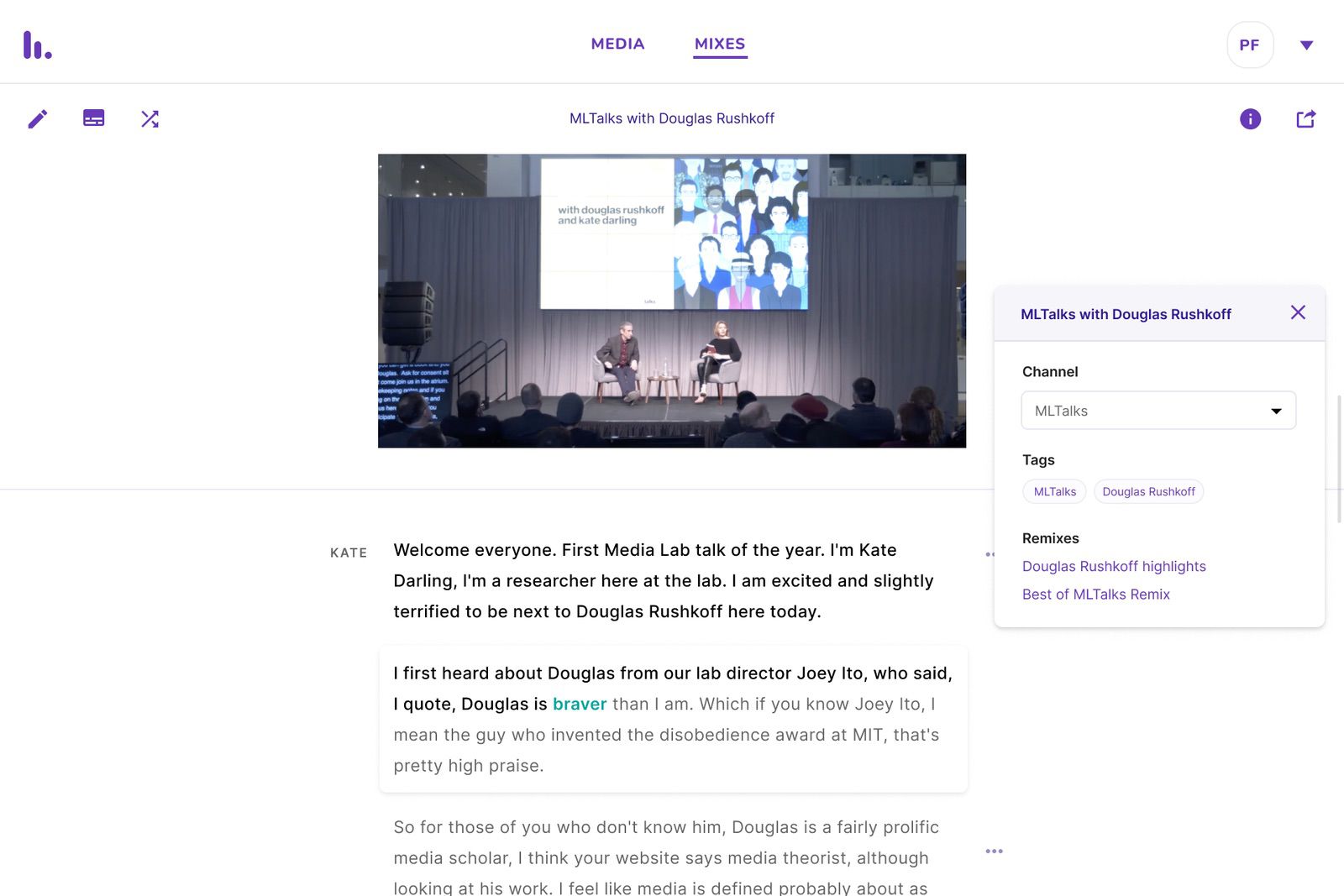 Reach a larger audience by requesting automatically translated multilingual transcripts and captions. We can transcribe into over 20 languages and translate into around 80! Our Editor allows you to tweak both translated transcripts and captions.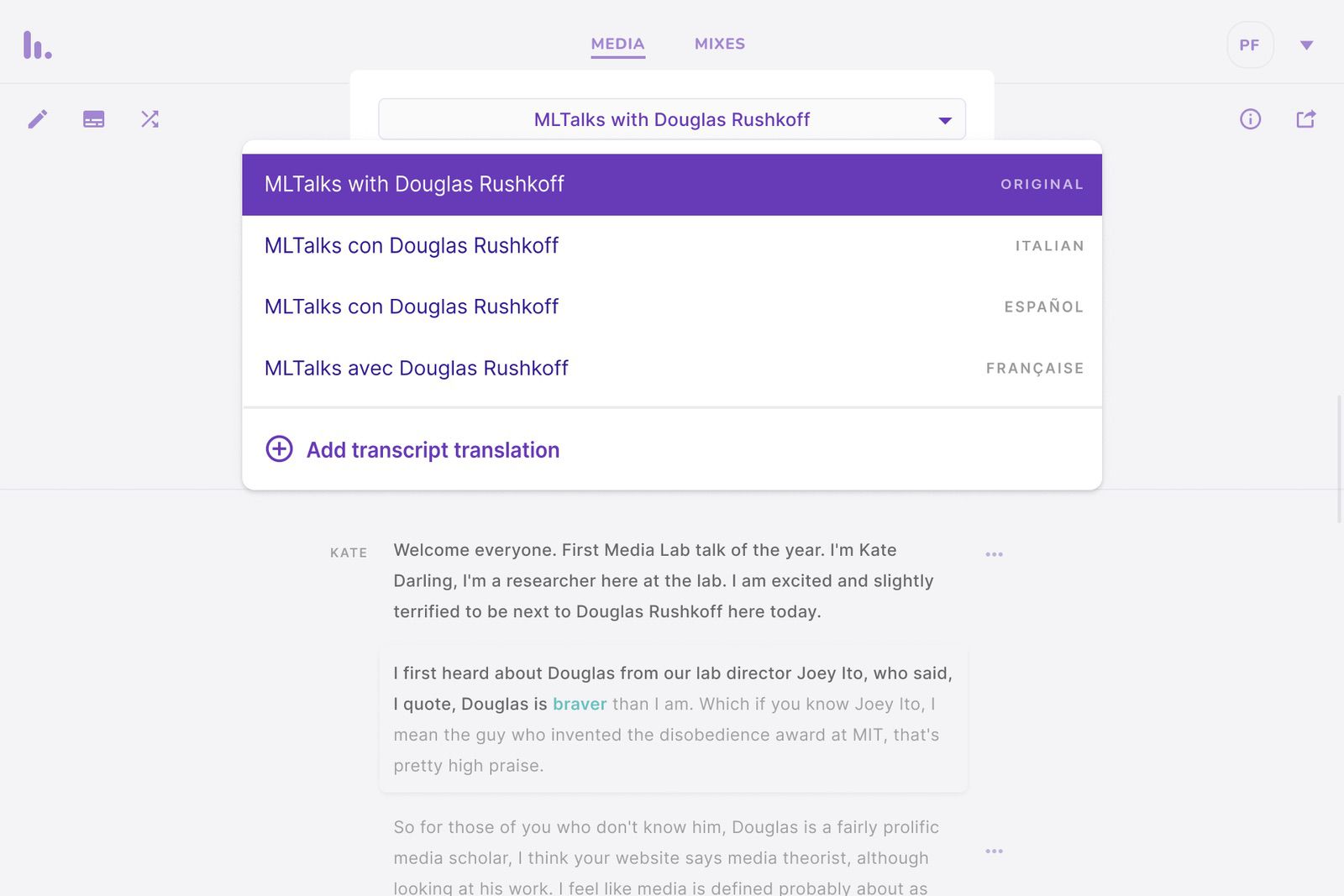 Make the most of your content by converting it into various formats — whether it's text for blogs, captioned video snippets for social media or audio clips for your podcast. Our Remixer provides a unique text-based way of creating mixes from one or more sources.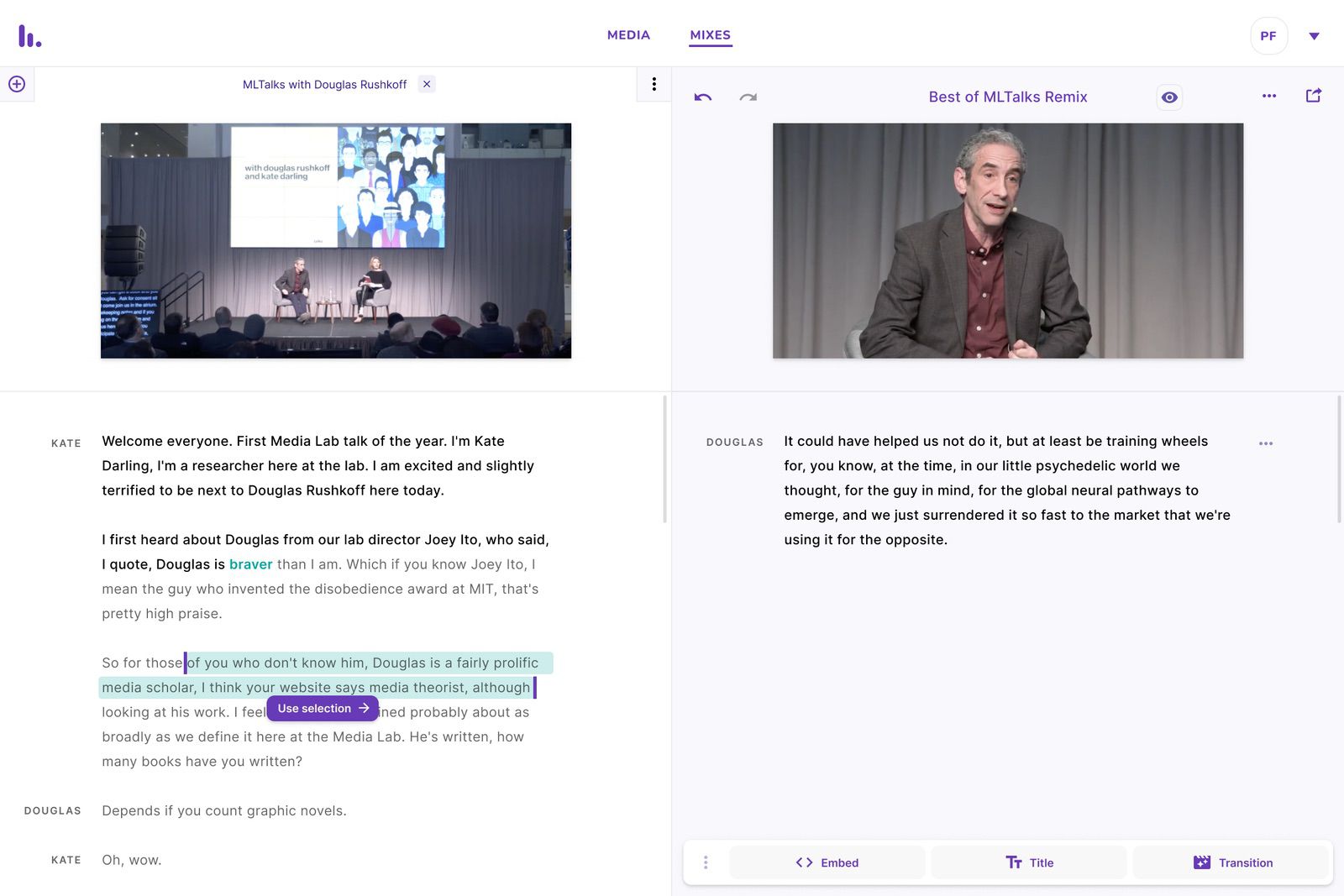 Leverage the power of your community to remix media and share clips, summaries and mixes. Export and embed Interactive Transcripts on your website. Share a link to a transcript or remix or share an excerpt by highlighting the corresponding text.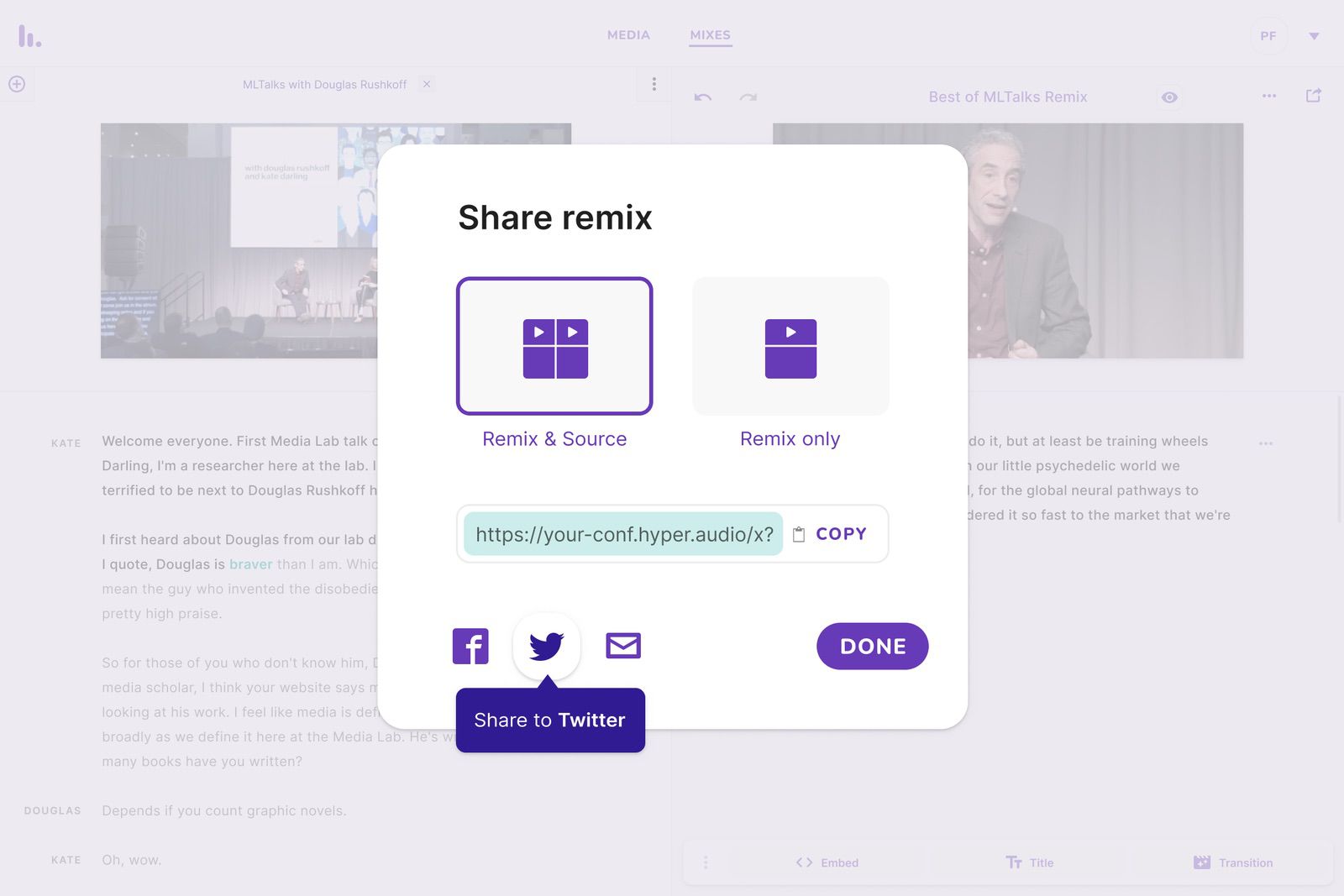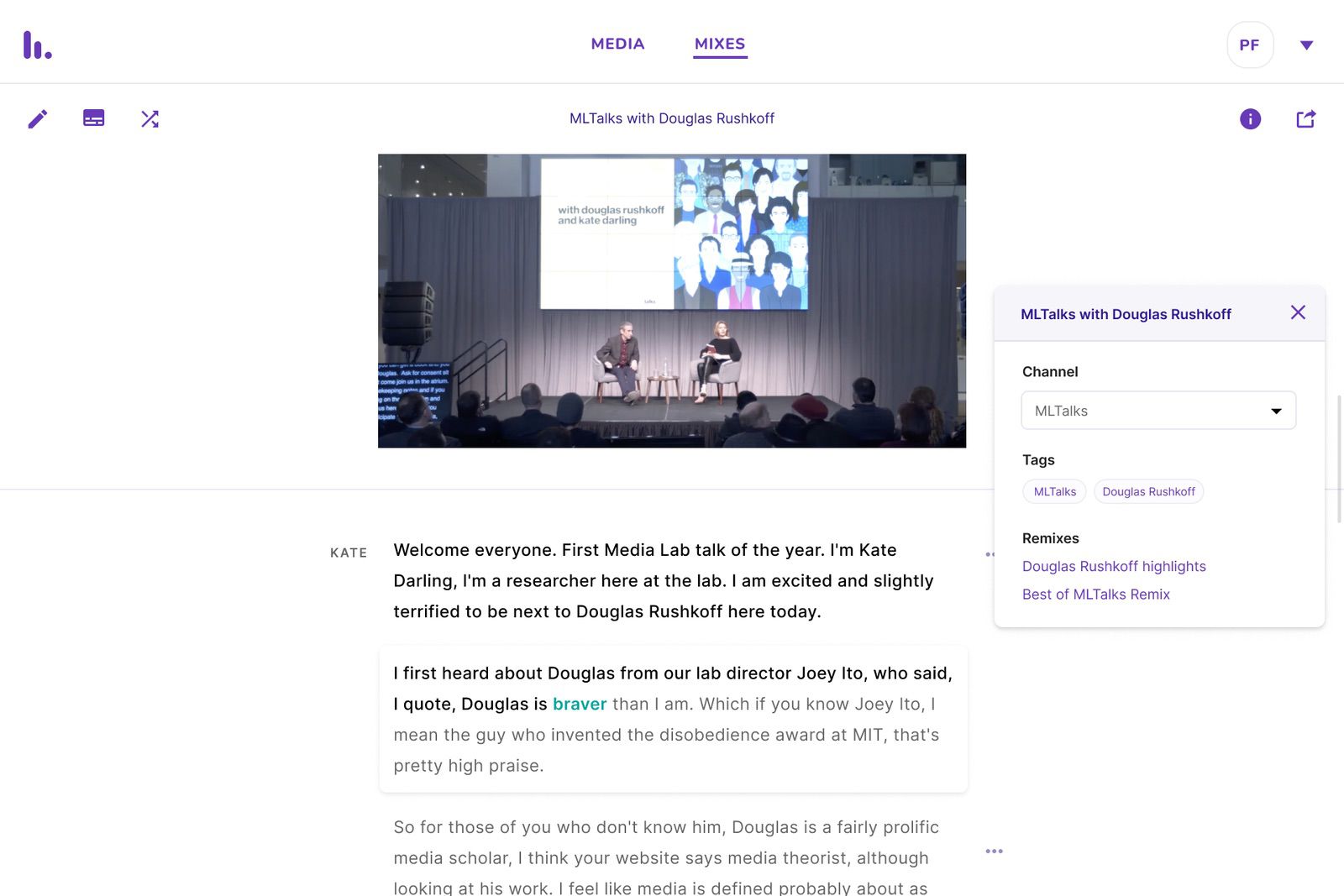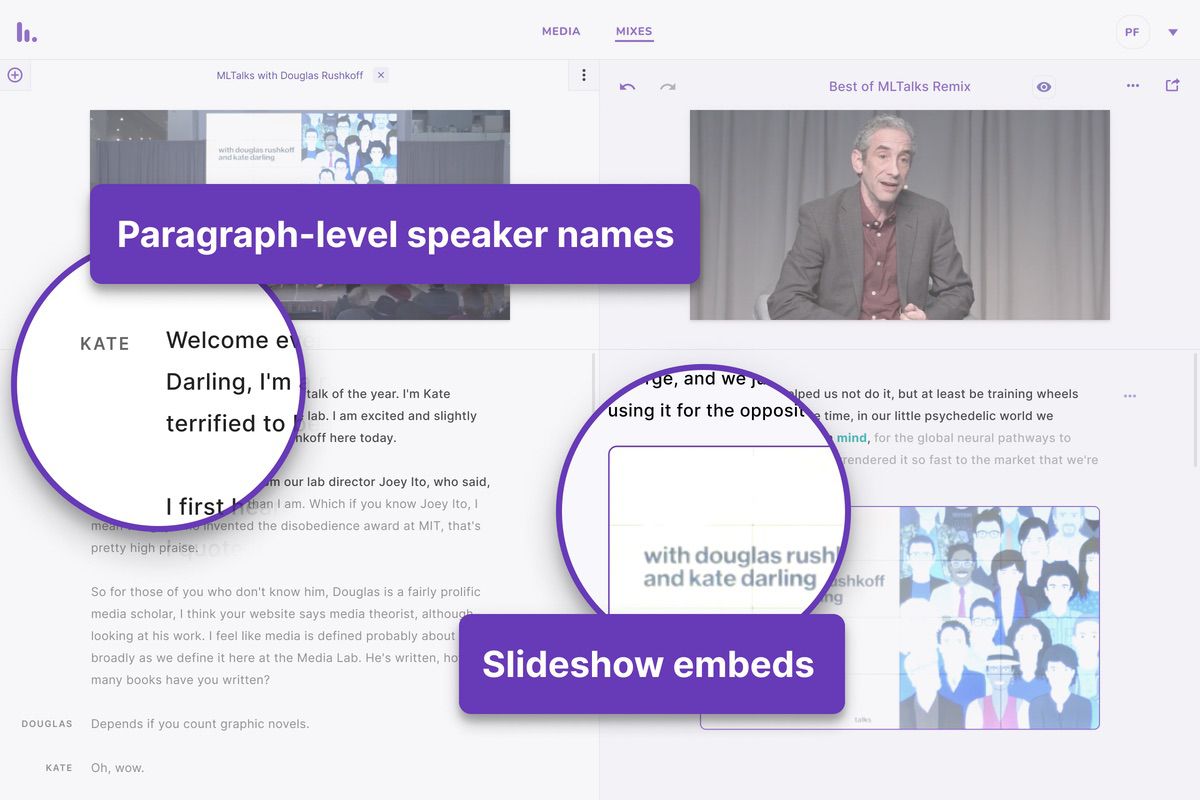 Tailored for Conferences
Include slide decks, specify tracks and tags, see speaker listings.
Easily create summaries, highlight reels or distilled versions of conference talks.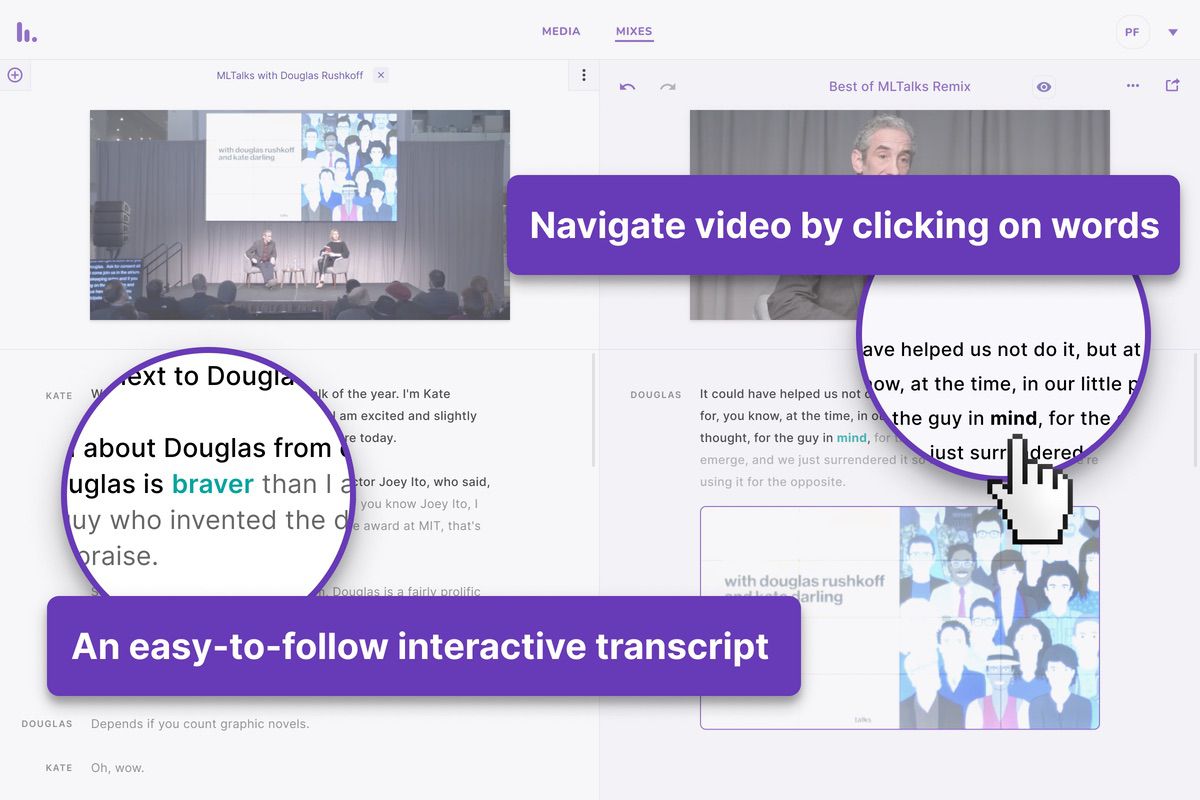 Increase Accessibility
Our Interactive Transcripts make it easy for participants to quickly scan and navigate content.
Transcript timings match the video, allowing you to jump to the right point by clicking on the text.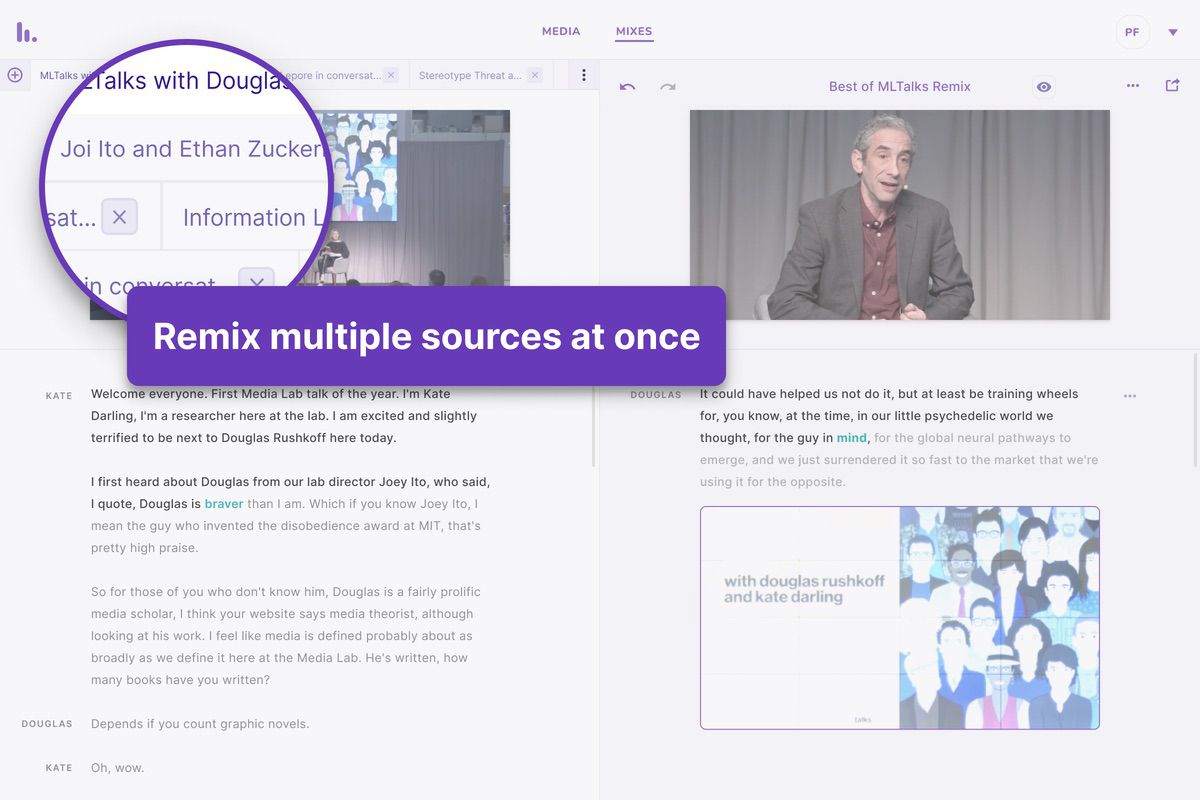 Repurpose your Content
Create summaries, compilations and highlight reels by using our intuitive text based remixer.
Remixes can be made from multiple video clips and simple video effects. Text can be used for blog posts and articles. Clips can be made for social media.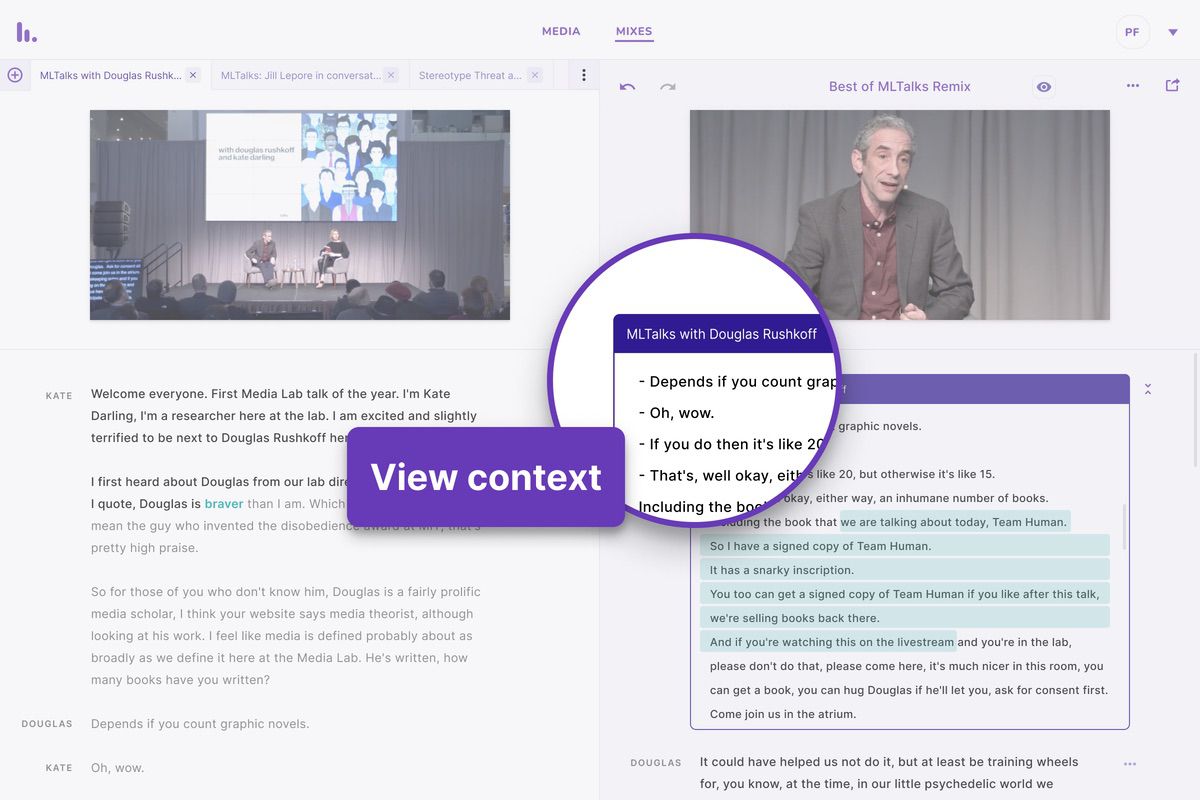 Maintain Context
The source content for each clip can be viewed, allowing context to be preserved.
In the world of misinformation, it is important distinguish context, intent and with content. And responsibly host content.
Harness Community
Grant access to community members allowing them to correct transcripts and translations.
Bestow remixing superpowers on others, reward community contributions or choose to compensate them through web monetisation
Own your Data
Archive videos, slides, transcripts and captions on an independent media storage service and CDN, thanks to our partners Permanent.org.
You can export all your data at any time in a form easily publishable on any website independent of Hyperaudio.
Create a Safe Space
Granular access control allows you to choose who sees your content
Our ongoing focus on community safety allows us to adapt our processes and moderation tooling to best keep safe our community members.
Extend your Reach
Our multi-lingual transcription tools and captioning algorithm help you make your content accessible to an international audience.
Support up to 30 translations for each piece of video content using our workflow.
Supported by organizations
Praised by Experts
It's delightful to see what you're doing at Hyperaudio—very much the same kind of referential editing that Xanadu is based on.
Ted Nelson
Hyperaudio has made extending access to our collections even more dynamic and engaging.
Allison Schein Holmes
Hyperaudio attains something like the holy grail of web media. It gives web media producers the same copy, cut and paste functionality that writers have enjoyed for years.
Ben Moskowitz
By introducing interactive, word level timed, transcripts to videos our online community can take full advantage of these videos and create their own mashups to share.
Mohammed El-Haddad
Everybody at the BBC Research & Development I have talked to about Hyperaudio is excited by its potential and its current standing.
Ian Forrester
Start sharing your conference
Transcribe. Repurpose. Share. Now.